Home

/

Product of the Month - FunghiClear
Product of the Month!

FUNGHICLEAR

-
FunghiClear Anti-Fungal Spray with Manuka oil is a natural alternative to the many synthetic fungicides currently commercially available

Benefits -
The natural active ingredients make it difficult for fungi to survive.
Helps improve the health and comfort of your feet throughout the year.
Upside down spray mechanism. Makes it easy to apply if patients can't reach their feet easily and great for in clinic dispensing.
Safe to use as an adjunct to other clinic fungal treatments such as laser. Patients find it simple to use.
Full anti-fungal protection. FunghiClear can be applied to toenails, feet and inside shoes.
Pleasant smell. 50ml spray bottle is easy to store, carry and use anywhere.
Buy in bulk and save. RRP of $35.65 means you can generate excellent clinic income.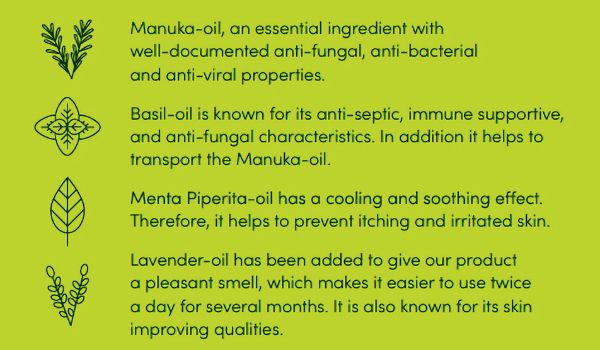 With its unique formulation of active nautural ingredients FunghiClear provides a safe and effective solution to combat common and persistent toenail fungal infections. FunghiClear™ inhibits and prevents the growth of common fungi by altering the environment on the toenails and skin of the feet. This is the primary mode of action.

FunghiClear is an approved medical device (EU MMD 1 & TGA licensed) to combat and prevent fungal infections of the feet and toenails (Onychomycosis & Dermatomycosis)